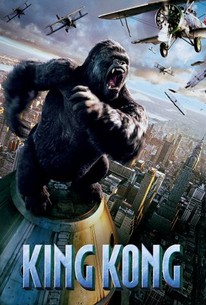 There is a lot to be said about King and about Kong. I like Stephen King
a lot, but unfortunately, the film is not based on one of his stories.
About Kong: one of my first movie experiences was watching Kong in the
backroom of a Northern Bavarian restaurant, in a special Sunday
afternoon 16mm kids' screening. Only the second half, though, so all the
rubbish about explaining why anybody would go to this island in the
first place was left out. (this was the 1980s version, by the way). The
monkey was alright, however, I have to defend it against all these
nasty reviewers who refuse to loose a good word about this version.
Matter-of-fact, in 1985, there was a reason to remake King Kong. In
2005, admittedly, there was not. Fortunately, most of the tales about
production costs is an outright lie, of course, because every child can
see that 76 per cent of the film is just a director's cut of Lord of the
Rings and Jurassic Park and Evolution and some of the related BBC
material. The rest is not very good, but a nice distraction on a Sunday
afternoon. And most of it is very loud, too, so you can try the settings
of your hearing aid, if you had one. If not, you will need one.
Now the objectively reviewing part: the airfight at the end really made
me dizzy, so I guess it was well directed. Unfortunately, the monkey
dies at the end (I really crossed my fingers for him, but I had tried
that before when watching "Titanic" and to no avail, so I was not too
surprised). I hope that there is KingKong II – The Curse of the
Were-Monkey, or that maybe they let Terry Gilliam direct it. I want to
see that woman pregnant with an 8-meter baby monkey and breastfeeding
it!